Every one in my family liked these biscuits very much,especially by hubby liked it more.The day i started this blog.My hubby dear asks me every day, what i haved prepared for the blog.With his support my blog came upto here.
coming to the recipe the ...
Ingredients:
Grated coconut-2cups
Sugar-11/2cup
Maida(as Required)
Oil for frying
Chopped Cashewnuts for garnishing

Preparation:
1.First mix grated coconut and sugar in a bowl and keep aside for 20mints.In order to get liquid from that.
2.Once liquid comes from the mixture add required maida to that in order to get like poori balls.
3.Press them like pooris and cut into desired shape. Note:Press them into thick layer so that it will not broke.
4.Take them into plate.
5.Heat a pan with oil for frying,add the biscuits into oil for frying.
6.Fry till they turn light brown color.Imp: while turning them do it carefully,otherwise the biscuits will break.
7.Take them into plate,allow to cool and garnish with cashewnuts.
8.Then ur tasty tasty Coconut Biscuits are ready.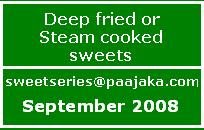 Sending this to Sweet Series-Deep fried or steam cooked sweets,an event started by Paajaka recipes