RM#2 Day 6
Ingredients:
Mutton Kheema-250gms
Onions-2medium no.
Gingergarlic paste-1tsp
Tomato-2mediumno.
Chilli Pwd-1tsp
Coriander Pwd-¼tsp
Turmeric a pinch
Coriander leaves few
Salt to taste
Oil-2tbsp

Roast and grind
Coriander seeds-½tsp
Poppy seeds/gasgasallu-½tsp
Cloves-2no.
cinnamon-1piece
Cumin seeds-½tsp
sombu-½tsp
Pepper corns-4no.
Cardamom-2no.
Note:Roast all the ingredients dry only(means without oil)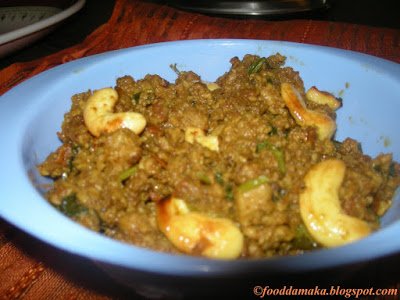 Preparation:
1.Clean and wash the kheema and keep aside.Kheema will be available in market otherwise bring boneless mutton and grind them in mixie into kheema.
2.Heat a pan with oil,add chopped onions and fry till they change colour.Then add gingergarlic paste and again fry till raw smell goes.
3.Then add chopped tomatos and cook till they become soft for 2mints.Add kheema,Turmeric,salt,chilli and coriander pwd.stir them well till oil comes out.Then add ½ cup of water and cook for 5mints by closing it with a lid.
4.Once the kheema is cooked well,add the roasted and grounded pwd of spices and again fry for 2mints.
5.Finally add coriander leaves and serve the Mutton Kheema with rice/chapathi.
RM Runners:
1. DK 2.Siri3.Srivalli4.Ranji5.PJ6.Curry Leaf7.Medha8.Priya9.Bhawna10.Raaji11.Ruchii12.Anu13.Kamala14.Roopa15.Divya Kudua16.Rekha17.Divya M18.Lakshmi19.Raaga20.Lakshmi Venkatesh21.Sripriya22.Viji23.Kamalika